This a classic forest road in the rural backwoods of Western Washington. Nestled within the glacial river valleys that once drained Puget Sound down to Grays Harbor, this road is bracketed throughout its entire 24 mile length by ridges, ponds and hillsides.
Just as you would expect from geography and location, the road is tree-lined pretty much from end to end. And just as you would expect from such a rural thoroughfare, you have the spectre of the dreaded hooved rat.
I had one very-close encounter of the antlered-kind, and two wherein deer were fleeing up the hillside by the time I got there. One of those deer in the middle section of the road was so confident that it stood in ground in the middle of the road until I was almost to a full stop.
This road is one of the older routes between Shelton and Elma. It's been superseded by newer roads, and its state of maintenance is apparent. It still has mileage markers telling you where you are on the road, but it no longer has the smooth surface of a modern highway.
Much of the road on the extreme ends are still made up of the original concrete slab roadway as well. Obviously, the surface is extremely bumpy and rides much like Interstate 5 South near Tukwila. In between, where the deer are, is a much more enjoyable smooth asphalt surface with excellently-radiused curves.
I really like this road. While it definitely has a high deer quotient, it's rather rewarding of smaller motors like the V-Strom where keeping the motor perking is the answer rather than monster torque.
Counties: Mason, Grays Harbor
Length: 24 miles
Towns: Elma, Shelton
Garmin Track of Cloquallum Road
Overview Map of Cloquallum Road: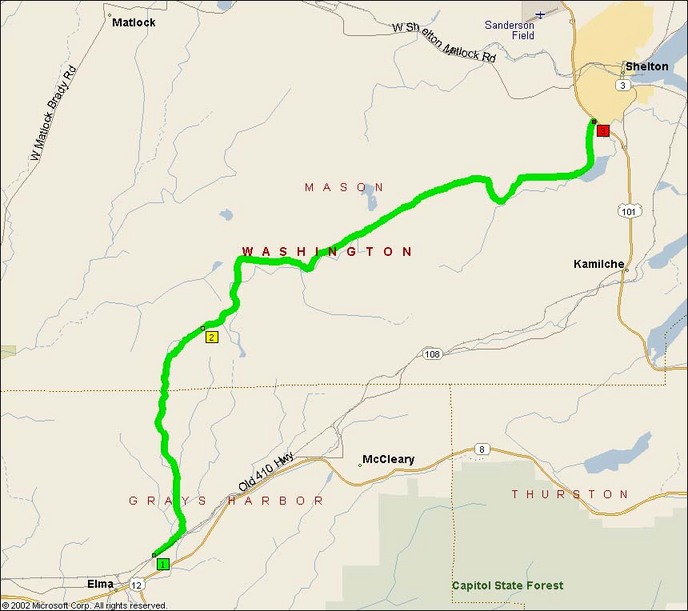 GoogleMap of Cloquallum Road: