Washington State Route 153 starts at a Y-branch a few miles southeast of Twisp and follows the Methow River Valley down to US 97. The highway winds across the valley floor, crossing and re-crossing the river in between farms and fruit stands. The curves are primarily wide sweepers at or near the 55mph speed on the 2-lane country highway.
The highway is lined with cottages and farms, yet appears to be sparsely-travelled on weekdays. The road surface was not new but rather quite sun-faded, yet was reasonably smooth with very little gravel in the corners. The level of maintenance on the road was noticeably high, with signage and guiderails in good order.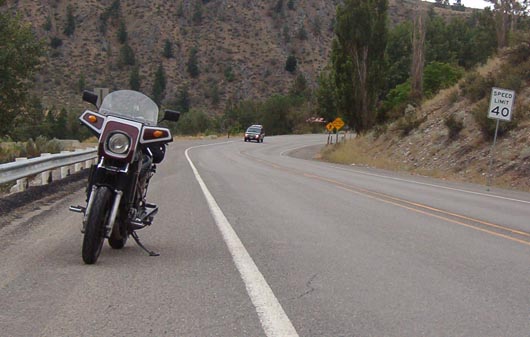 View back along SR153, the Methow Valley Highway
One could attribute the road surface quality to simply infrequent use, but this busy weekend route is also one of the older state highways built the hard way (manual labor) during the WPA years. Prior to the current ~1930s roadbed, under the old 'State Road' highway designation, this highway (unusually) had no numbered designation but was simply the 'Methow Valley Highway' which was routed well up into what is now Washington State Route 20. This heritage can be easily seen, when riding down from Twisp, you must turn left to continue on SR20 to Loup Loup Pass and the straight path turns into SR153 leading down to Pateros.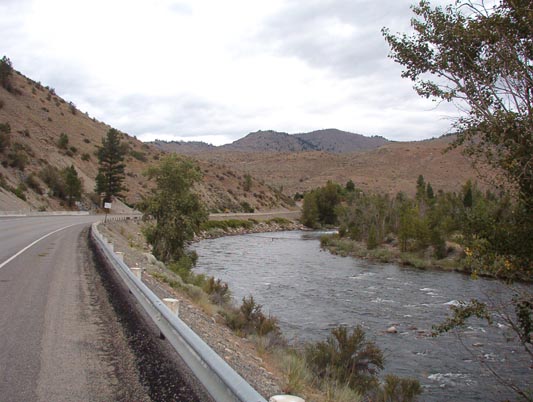 View up the Methow River toward the NW along SR153
From other riders I've spoken with, this route is often full of RVs on the summer weekends, returning via SR20 to the suburbs of NW Washington. Remember, those RVs are a little longer than sedans, and the drivers can be rather more jealous and aggressive towards motorcyclists.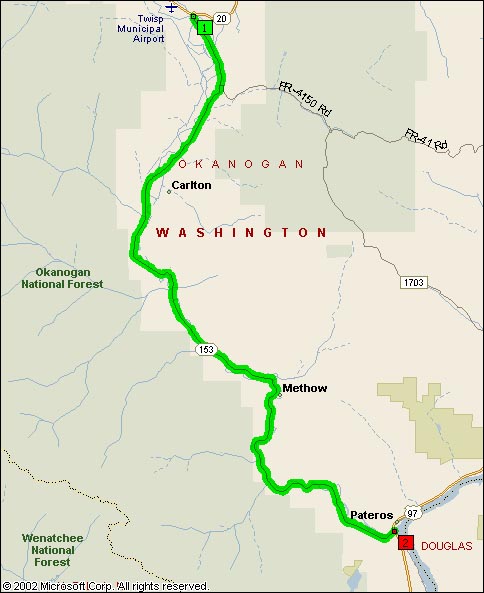 Map View of WA SR153
Road Name: Washington State Route 153/Methow Valley Highway
Counties: Okanogan
Length: 31
Towns: Carlton, Methow, Pateros, Twisp
Google Map: