Puget Sound riders often lament that there's no good places to go ride that aren't completely riddled with speed traps, but perhaps what's needed is a new place to ride.
Manila Creek Road is just such a place. While it's not 80 miles of uninterrupted twisties like FS25, you're not going to see much traffic here and you're not going to see much LEO presence either. And just like the roads around Helens, there's great roads all over this area where you can turn around and re-do a great set of curves several times without bothering the locals.
View of the Columbia from halfway up the west end:

Like the map indicates below, this road runs up over one of the series of ridges that defines NE Washington. One end is anchored at Route 155 on the the Columbia River a few miles north of Grand Coulee (with a full range of services) and the other end at Route 21 on the Sanpoil River Arm of the the Roosevelt Reservoir, a mere 3-4 miles north of the Keller Ferry. The grades on each end are rather steep as the road climbs out of the valleys, but the plateau at the top is quite nice.
In between the ends, you'll see some of those sweet twisties that you see so rarely in Western Washington. Smooth, relatively-untravelled, and well-planned turning radii and with good signage.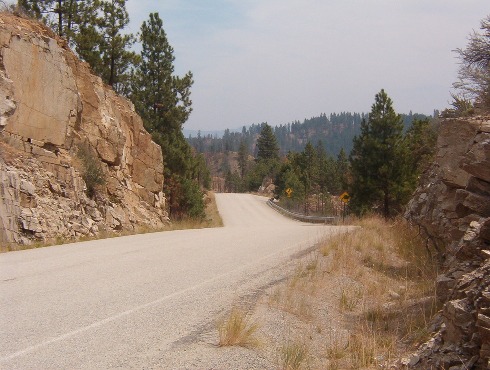 In all, it's one of a number of great roads that are scattered all over NorthEast Washington. If you've done this road a few times and are bored, you can go hop down through Coulee City and hit the Keller Ferry curves that come up out of the Columbia River Canyon. Or you can cruise up to the roads around Kettle Falls and Republic where you'd be able to ride for days without getting bored of the same old roads. And if that's too far, you can always make a loop out of the neighboring Cache Creek Road, just a few half-dozen miles or so further north.
The only thing I'd truly caution you on is the occasional deer or cow and bicyclists. It seems that the regional bicycling clubs like this road for some reason.
Counties: Okanogan, Ferry
Length: 17 miles
No Towns on road. Grand Coulee is several miles south of the west end down Route 155.
Google Map: