Please note: I did this road in June of 2009. Much has changed in Central Oregon since then and some services are no longer available.
During my week in Central Oregon last summer, I'd met and spoken with many riders who'd ridden up US 395 and come up through John Day. They were looking for many of the things that I was. Quiet roads with smooth pavement and light traffic being one of the most frequently expressed desire. A most common and fervent wish that I have to agree with.
Central Oregon provides hundreds of miles of some of the best pavement on earth. Not a lot of people on the roads if you stay off the US highways, and those people that you do encounter generally seem to be very good folks. Perhaps it's my Midwestern childhood coming to the fore, but I felt a real kinship with these people. Scratching out a living, and a rather hard life at that, in the wide open high country.
And as far as scratching? Well, those Oregon roads sure have the traction to spare. They're mostly jagged chipseal that hasn't had enough traffic to wear the surface down. They may chew your tires up faster than expected, but even hard-compound touring tires have above-normal grip when these roads are dry. I'd worn quite a flat spot in the 6 weeks of commuting leading up to my trip to Oregon and 4 days of serious riding through the Oregon countryside has rounding the profile right back to normal.
As far as the Route 410 "Bull Run to Baker Road"? First off, it's not actually marked as such on the highway. If anything, it's more likely to be marked as "This way to Forest Service 73" which lean up into the hills to the ski resorts around the Anthony Lakes Highways.
And while I was there in June 2009, there was even high-octane fuel in Sumpter. I've since received reports that the 'Stage Stop' gas station and supply store was closed after a very poor tourist turnout in 2009. I'm not sure if it's being reopened for 2010 though since it's still listed on Sumpter's website. I'm hoping it's still there, the proprietress is good people.
Most of the road has the trees just about this close. Watch out for deer. Photo by Cecil Reniche-Smith (Creative Commons: AT, NC, NoDerivs)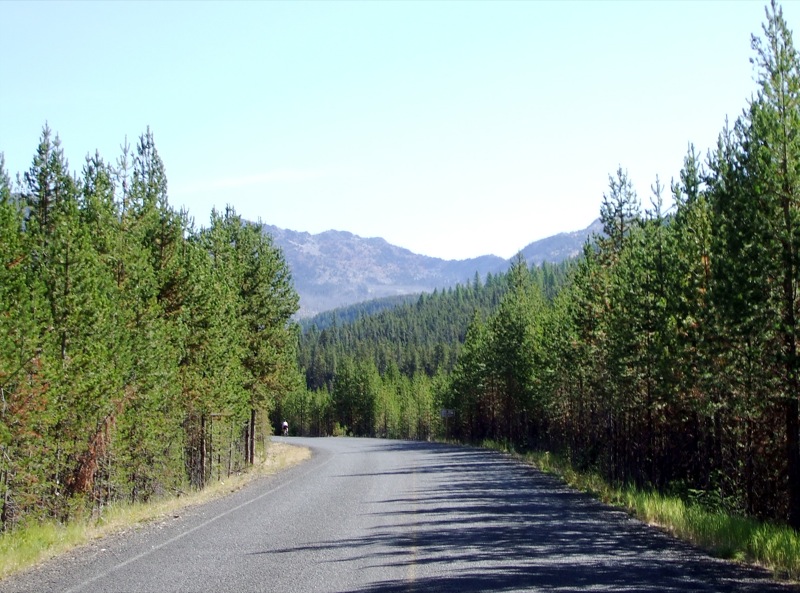 Once you've (hopefully) gassed up at Sumpter, you're heading west up into the mountains. The roads get progressively tighter as you go higher, and the turns get better. The scenic views are decent, but nothing that's really photogenic. It IS very impressive just how far you can see through the clear air though.
Just watch out for the deer and the elk! I had 24 close encounters with deer and elk in my 7 days down there, including several that nearly intercepted me from the off corner and one that nearly walked right into me while I was standing NEXT to my bike at the gas pump. No joke. Just like any cager with his cell phone, the deer was looking over his shoulder behind him and nearly walked into me.
Routing Note: This route is sometimes listed of Route 220. This is incorrect since Oregon Route Numbers and Oregon Highway Numbers are not necessarily the same thing. The Oregon Route 410 is how maps will show it, but the "internal accounting designation" for this road is "Highway 220" and may include more of less of this route than the Route 410 designation. If you're confused, go look Oregon Highways up in Wikipedia. It makes my head hurt just keeping this stuff straight.
I also recall that up at the county line is a Ski Resort. There's probably more of those around that I didn't see, and there are definitely some campgrounds, so you do have to keep an eye out for the occasional cagers. It's really for the best anyway. If you're not watching out enough to see the cagers, you're not going to see the deer until too late anyway.
Counties: Grant, Baker
Length: 19 miles
Towns: Granite, Sumpter
The map below gives the impression that this is an "out and back" road. It is not. I simply chose the arbitrary end point at Granite from which this road continues on up to either Ukiah, Route 244 into LaGrande, or off to the Northeast via Anthony Lakes depending on which or whether you turn off at the top of the plateau.
Google Maps for State Route 410 'Bull Run to Baker Road':