What can I say about this road? How about: Wow!
This is a highly-technical road full of high-speed sweepers that will bring out the best of any motorcyclist. I was hitting cornering speeds that I normally don't ever have an opportunity to attain in Western Washington. The road is chock-full of elevation changes and corners of all shapes and sizes without any effort to make these curves flow. In short, it's a farm road that's had all its sharp edges shaved off.
Every turn on this road is going to have a different radius, and if you're coming in from the north there's an amazing number of corners that turn right or left immediately after a blind rise. This road is not one that I recommend for newbies to ride while in "attack mode" as you need to be quite in tune with your machine and your riding abilities to do this road safely at speeds much above the posted 35mph limit.
Be safe and keep you and your bike on your side of the road.
At about halfway point on the road, you cross over the Snake River at Lyons Ferry where there's a lovely little state park and swimming area.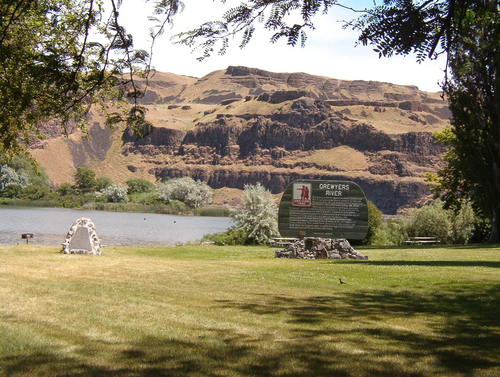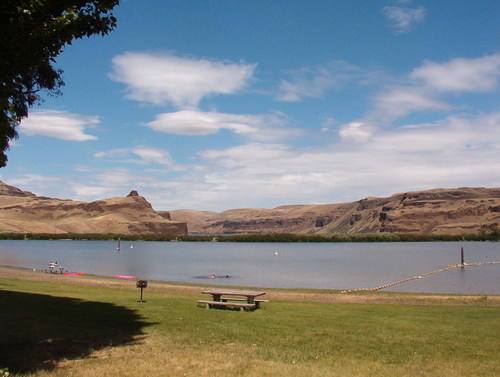 View of the bluffs towering of the Snake River downstream from the bridge.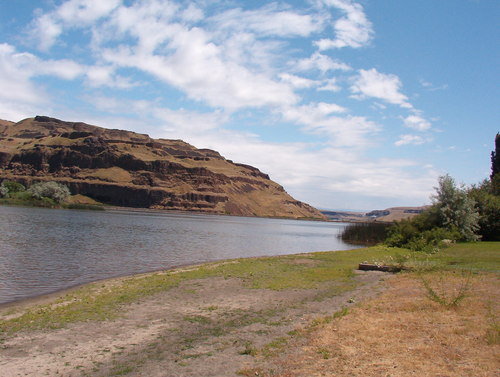 Nowadays, there's a concrete span carrying SR261 across the river, so you don't have to wait for a car ferry. And above that you can see a huge rail-trestle viaduct structure spanning the entirety of the river gorge.
Update: June 2013
It appears that the Lyons Ferry State Park has been reopened on a volunteer basis. It's owned by the Corps of Engineers and funding for the parks had been eliminated. Since the Corps has allowed volunteers to open the park, it's likely that it will be open during the summer months for passing motorists to use the restroom facilities or take a quick dip in the river.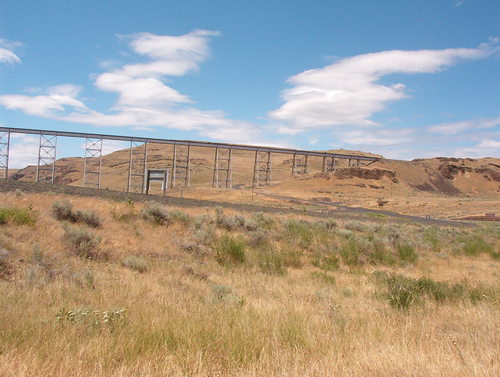 Road Name: Washington State Route 261 (Sperry-Delaney)
Counties: Columbia(WA), Franklin(WA)
Length: 29
Towns: Delaney, Grange City, Lyons Ferry, Pataha, Perry, Powers, Sperry, Starbuck
---
Overview Map: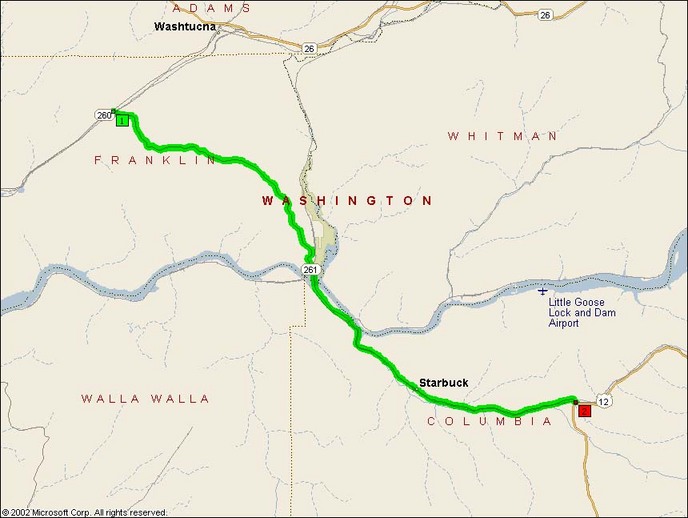 Google Map:

View Larger Map