The Green Valley Road is a twisting rural, two-lane through the Green River Valley. The old wagon trail winds between fields, stables, and active farms between lush hills. Sited on the eastern end of this road is Flaming Geyser State Park.
Heading into the bends east of Flaming Geyser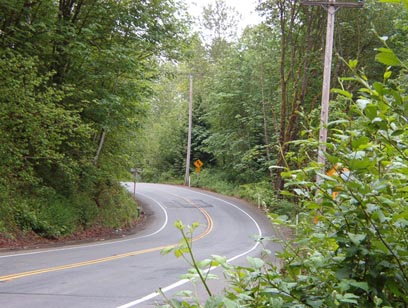 The geyser apparently isn't as spectacular as it was prior to the 1960's, but a large field is there with various activities such as RC airplanes, softball, horseback riding fields, and kite flying.
The rural, agricultural west end of Green Valley Road, note the distance from road to telephone poles.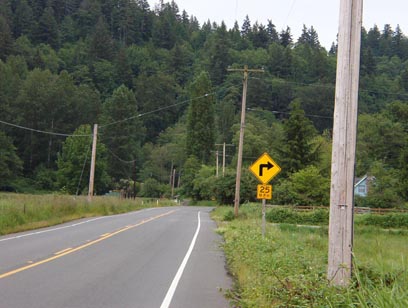 In the stretch of the road west of Flaming Geyser SP, many of the sharper turns thread in between very large trees and the asphalt is just inches from a deep ditch or a telephone pole. The scenery is well worth the 'pain' of taking these curves near the recommended speed, however.The section east of the park has fewer curves than the west section, but the curves are much sharper, signed at 15-20mph generally. The curves are often damp as there is a canopy of evergreen trees there.
The west end of Green Valley Road can been accessed just east of the Auburn-Black Diamond Road exit from WA SR18. The east end of Green Valley Road ends at Enumclaw-Black Diamond Road, a little less than a mile south of the city of Black Diamond.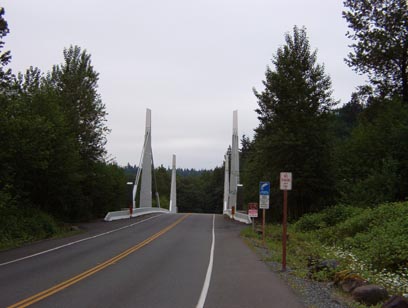 Bridge leading into Flaming Geyser State Park
Road Name: SE Green Valley Rd
Counties: King
Length: 11 miles
Towns: Auburn, Black Diamond, Kummer
Download the Streets and Trips file for Green Valley Road
Google Map: