If one were forced to describe Idaho roadways with but one word, there's no better choice than 'Solitude'.
Having ridden down and around the "interesting" side of Lake Coeur d'Alene, I needed to get back over to the highway to find my way down to the Lewiston and then Rattlesnake Grades. Idaho Route 5 provided that route and a bit more.
Route 5 runs between St. Maries and Plummer along the bottom of Lake Coeur d'Alene and twists up through the canyons and along the fjord-like carved inlets of the lake. Quite literally, when heading west of St. Maries you are faced with 13 straight miles of road that are anything but, well, straight.
And else do you win by riding Idaho 5? You'll get some fantastic partial views of the lake. You'll run alongside busy railroad tracks and under narrow gaps in rail trestles. You'll get those fantastic 44 curves before reaching the farms east of Plummer. If it's summer, you'll also get that wonderful resiny pine scent hanging in the air. And best of all, you'll have this road almost completely to yourself on a weekday or a quiet Sunday.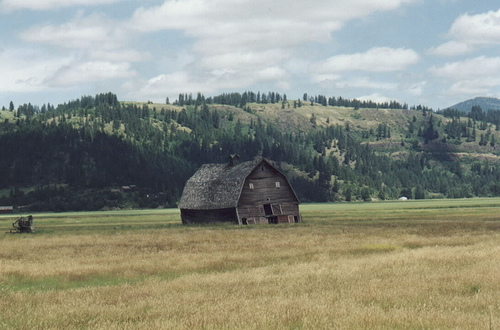 Old Barn outside St. Maries (by Robert Ashworth. Creative Commons: Attribution)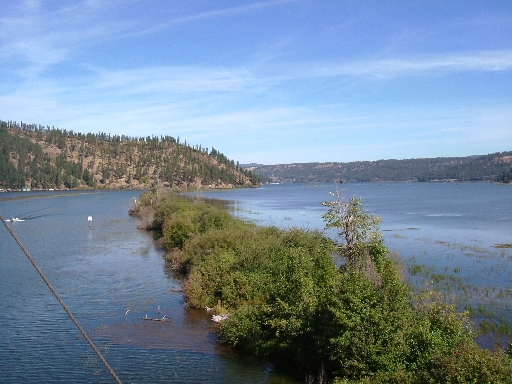 Banks of the St. Joe River (by Robert Ashworth. Creative Commons: Attribution)
There are some things to keep an eye on though. This is edge of the high country, and the entire area is completely overrun with deer and elk. You most definitely do NOT want to have a close encounter with a 1100 lb. bull Cervus canadensis and its very large antlers. No sirree.
When I went through in August 2008, the road was fairly smooth. The Idaho Highway Dept. might really annoy me with the way they work on their roads with huge backups for one-lane sections, but I can't really argue with the very nice results they provide.
This route when combined with Idaho 97 or the north leg of Idaho 3 provide a very nice diversion when you're on your way north to Cd'A and aren't in a terrible hurry. And while you might expect it to serve as a shortcut to I-90, the steep ascents required to get atop to the plateau east of the lake are quite slow and unpleasant for under-powered RVs and family cars.
There's no services along this road either, though. And I saw no signs of cellular towers along the route either. As always, if you're going to journey out into the hills you should make sure that your motorcycle is functioning properly before you head out.
Another little bonus is on the southwest corner of Lake Coeur d'Alene. Breyburn State Park is sited in that little corner, and has numerous trails leading out from it.
Length: 33 miles
Towns: St. Maries, Chatcolet, Parkline, Pedee (ghost town?), and Plummer
Google Map: