This delightful back-country highway was far nicer than my admittedly low expectations. My cohort and I were hustling along on 223 at a brisk but not unreasonable pace, and enjoying the scenery and sweepers. While this road is certainly no OR47, it has its own charms.
The sweepers are predictable and friendly, with just enough elevation changes and trees to keep things mentally-stimulating. The road is crowned on the straights, but most of the curves are properly banked making it easy to maintain a good clip without worrying about camber. The pavement is reasonably smooth too, while most somewhat-marginal roads are still bowling ball smooth for a V-Strom, my wingman provided no complaints from atop his ZX-10R either.
The best thing about this road is its status as an amazingly uncluttered alternate to the Route 99 highways or Interstate 5, Unlike so many other routes in Western Oregon and Washington, this thing was just about completely clear. It was scary empty, actually. I don't think we saw even a dozen oncoming vehicles in 25 miles, and had no problems passing a couple bimbling sport-tourers.
I also enjoyed the lovely views of the Coastal Range foothills off to the west. While I'm sure we would have gotten there faster if we'd been on I-5 or maybe even 99W, we certainly wouldn't have been as well rested. And having fun really is what it's about after all.
Please note, there's not much in the way of consumer civilization on this road. Fuel used to be available from a little 2-pump country store in King's Valley, but that's long gone. Nowadays I'd expect to gas up at the top in Dallas, at the bottom in Philomath, and ducking over to Monmouth is just as far as staying on the road up to Dallas.
Counties: Benton(OR), Polk
Length: 31
Towns: Dallas, Fern, Fern Corner, Kings Valley, Pedee, Ritner
Overview Map: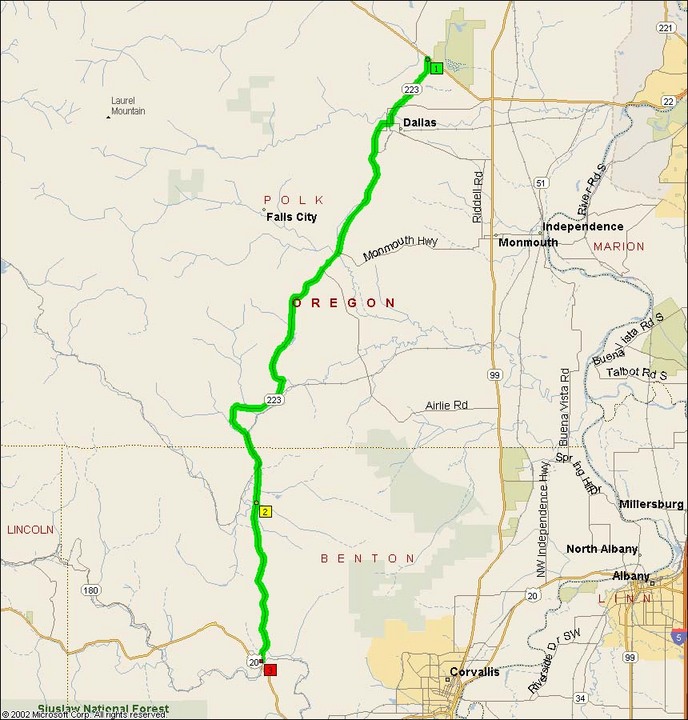 Google Map: