The Nestucca Valley Road is a sparsely-traveled road that croses the Coastal Range between Carlton and Beaver in Northwestern Oregon. The road is very technical with gravel in many of the corners and no discernible rhythm. It felt far more difficult than FR99 coming down from Helens. NOT a road for beginners or recently-returning riders. The road on the east side of the summit (easily identified by the multiple miles of gravel at the top) had quite a bit of gravel down the center line of the lanes and absolutely no signage warning of curves or recommended speeds.
Most riders in our group were taking the corners at 25-30mph, the corners all being very tight and usually blind. Some members of our group had to stop to rest due to the vibration and washboard rather quickly overwhelming the rear suspension of some of the group's bikes. The Dyna Glide rider in particular didn't enjoy it, and my 84 Sabre was unpleasant even at maximum compression damping.
The sweepers on the west side of the Coast Range were quite a bit more forgiving, although many still had no recommended speed or signage. I was able to maintain 50mph regularly through most, and there was a much lower frequency of gravel mid-corner as well.
Heading out towards the water, Nestucca Valley Road slices down out of the Coastal Range into Beaver. Most desired services are available in Bear, including food, fuel and auto repair. Indeed, although I did not get a photo, there is reputed to be a 'Beaver Service' station for auto repair somewhere in town. NVR meets US101 in Beaver, linking you to the rest of the Pacific Ocean shoreline.
If you're looking for a less-challenging connecting road off US101 to make your hop over the mountains worthwhile, I suggest Oregon 22 eastbound out of Hebo, a few miles south of Beaver on US101.
Road Name: Nestucca Valley Road
Counties: Tillamook, Yamhill
Length: 45 miles
Towns: Beaver, Blaine, Carlton, Nenamusa
Overview Map: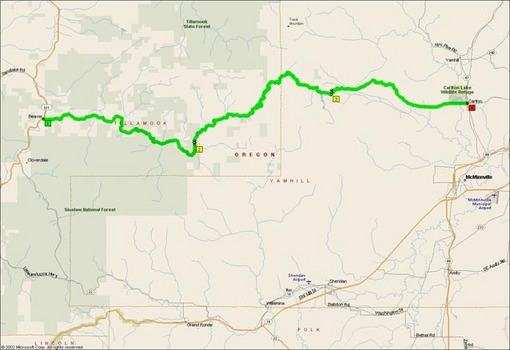 Google Map: