Oregon 58 is a simple interconnecting road that takes vacationers from Interstate 5 near Eugene to US97 on the east side of the Cascades. The opposing ends of 58 are frightfully dull and arrow-straight. We will deal with the central (and more interesting) segment approximate running from Dexter to Odell Lake.
The center section of Oregon Highway 58 is a nice little bit of sweepers. Unfairly maligned by serious sport riders as 'mindless slab' when compared to Aufderheide's serpentine reputation, it is nonetheless a very nice scenic road with adequate curves to keep the road interesting.
Lower altitude areas tend toward Open Road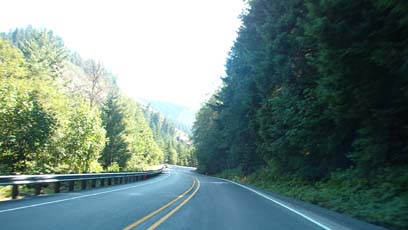 While I traversed Oregon 58 on my way to GPNDG XII, Oregon DOT was re-paving large section of the roadway. Upon my return trip, the repaved section were quite smooth and grippy. ODOT had a due date of August 2003 listed for this road at one point, but we're all well-acquainted with the realities of road construction estimates.This road is surrounded by the Willamette National Forest (and possibly the Deschutes National Forest on the east end). Lookout Point Lake borders about 15-20 miles of the north side of 58, providing many scenic views across that long, narrow lake.
At one point along the lake is a white de-commissioned covered bridge. A modern concrete span adjacent to the span, directing traffic into nearly Lowell across the water. As you approach it can be seen out across the lake and is quite eye-catching. Definitely worth a stop for a couple photographs.58 is a major means of accessing some of the very twisty and challenging Forest Service roads such as FS19, known within our group as "Beth's Favorite Road" and a favorite of others as well I'm quite sure. Next time I'm in Southern Oregon, I'll be sure to budget more time to visit all those lovely little roads out in the Forests.
View across the reservior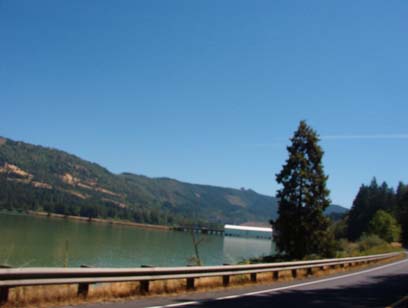 Our group camped near Crescent Lake and many other nice sited along 58 as evidenced by both the Forest Service camp signs along the highway and the commercial RV and campgrounds. Boating is available at several points along 58, and Crescent has a public beach for taking a dip after a day of hot riding.During my recent traversal of 58 in August, the temperatures were quite warm, reaching up into the 90s even at 4-5,000 feet. The mornings on the other hand were quite nippy, getting down into the low 40s by sunrise. As soon as the sun would clear the ridges, it would heat up fast. I went from chattering teeth at 8:30am to sweating by 10:15.
58 is comprised mostly of sweepers with the curves following the lake. The upper reaches of 58 tend toward sharper curves up near the Cascade Crest. Though most of the curves are quite gentle, some have fairly serious lean angles at the quite elevated speeds attainable in the multi-lane section of the road.
55 miles per hour (in a pig's eye)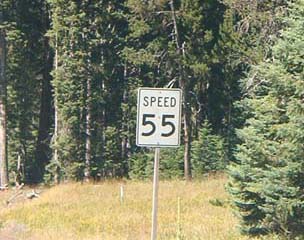 Sun-dappled stretch of 58 along the Reservoir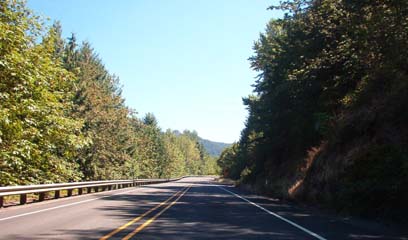 58 has a few things to careful of, along with its lovely scenery. There are quite a few turnouts that you should be careful of, with their attendant sight-seers distracted by the scenery. The overhanging trees can provide some hazards that might not be commonly seen, such as moss encroaching onto the road surface from the shoulder. One rider in our group slid under the guard rail on Aufderheide for just this reason. One should also be careful of aggressive RV driver as well, as I heard reports of road-rage behavior in passing zones and drivers actually attempting to ram or strike passing motorcyclists. As always, be prepared for reduced visibility when you enter the mountain tunnels.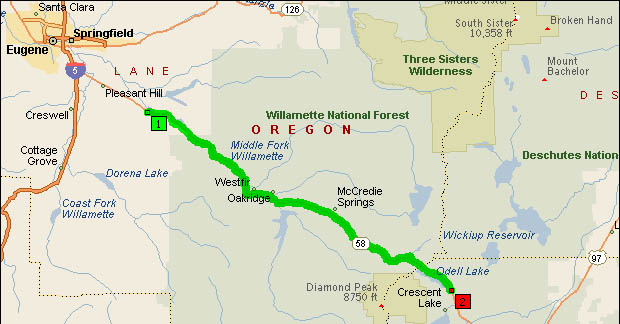 Counties: Klamath, Lane
Length: 56 miles
Towns: Crale, Dexter, Heather, Lowell, McCredie Springs, Minnow, Oakridge, Odell Lake, Pryor, Westfir, Wicopee
Google Map for Oregon Route 58: