This road is one of those little country roads that ends up being curvy by virtue of the fact that it has to go in between existing farms, and it's conveniently situated to go over to the town in the next valley. It's a tableau full of sweepers, executed in chipseal with excess-gravel shoulder, but otherwise it's a good grippy surface without much in the way of heave or buckling and no tar snakes.
One note of concern for sportbike riders and newbies: East of Lenville Road, this road is gravel. You'll get up to a fork in the road: on the left is the Lenville road which is gravel, and on the right is the continuation of Genesee-Juliaetta Road which turns to gravel shortly after the bridge.
I was in a bit of a hurry so I did not do the entire gravel section, but the section I did was quite washboardy.
County: Latah
Length: 16 miles
Towns: Genesee, Juliaetta
Genesee has a couple bars, a couple banks, a diner and a supermarket, but doesn't show any gas. I don't remember real well whether it was just unlisted, as the town was crowded with people visiting a farm implement sale on the fairgrounds when I rolled through.
Juliaetta has fewer services available in town, and the nearest reliable gas is 15+ miles away in Troy, Deary, or Ahsaka.
Overview Map: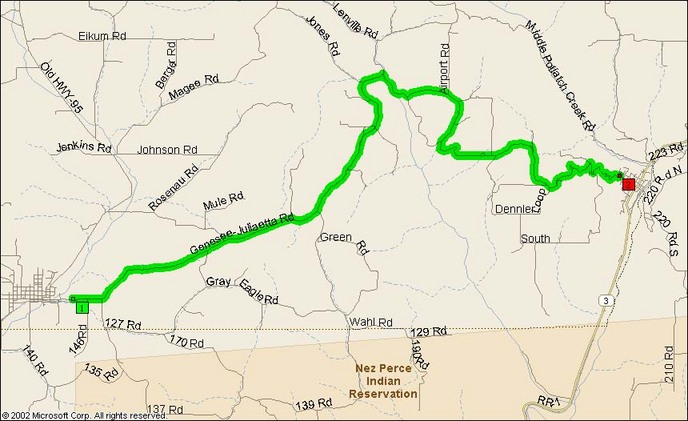 Google Map: