US Route 197 is a rather odd high desert highway. When you're on this highway riding up on top of the bluffs, it's quite dull. Seriously, it's flat, dead-straight, and boring as all get out.
Then you get to the edge of the bluff and there's a suddenly a sign telling you about a hairpin turn ahead. You go through the turn and look down the length of the valley and see another half-dozen tight corners that are worthy of The Spiral Highway in Clarkston. You polish those lovely curves off, trundle through town, and do another half-dozen or so back up the sides of the valley and back into the flat and dead-straight.


Yes, behind those hills (near Maupin) there's a dozen or so fabulous twisties. You really wouldn't know it from here though.
And yes, that speck behind my bike further down the road is a rider turning around to make sure I'm okay. One of three complete strangers on bikes that stopped in the course of my 10 minute photo and hydration break.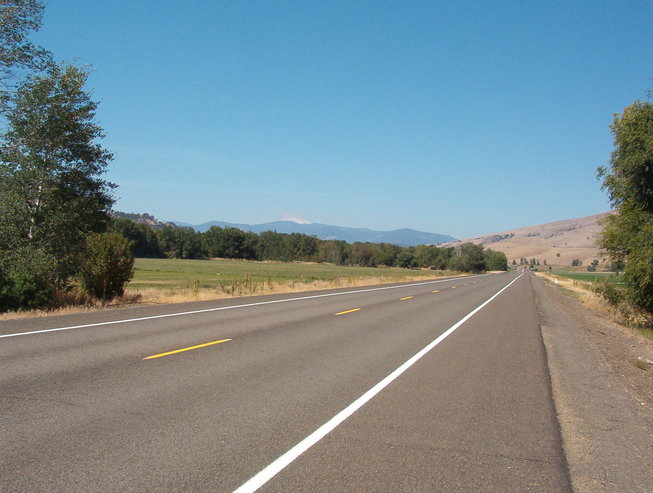 Oregon Cascades and foothills surrounding Mt. Hood. Photo taken north of Maupin.
North of Maupin are some really great sweeping inclines with passing lanes. On quiet weekdays you can make some serious time for your trip on the roads and still have some fun doing it.
Counties: Klickitat, Wasco
Length: 63
Towns: Criterion, Dufur, Maupin, Smithville, The Dalles, Tygh Valley
Streets & Trips file for US Route 197
Google Maps: