Northwestern Oregon is a treasure trove of fantastic motorcycle roads. Many of the roads are very mountainous in nature with lots of fir trees and log trucks. This one, on the river side of US30 is a bit different. This one runs through a still hilly but far more agricultural and bucolic settings than the more mountainous setting between US26 and US30.
One key difference for me was that the curves were probably a fair bit safer. Less likely to 1) come across an oncoming log truck in my lane or 2) come across an oncoming bull elk in my lane.
There's some pretty views on this road too. I rather like the little view down to the Columbia from the top of this bluff.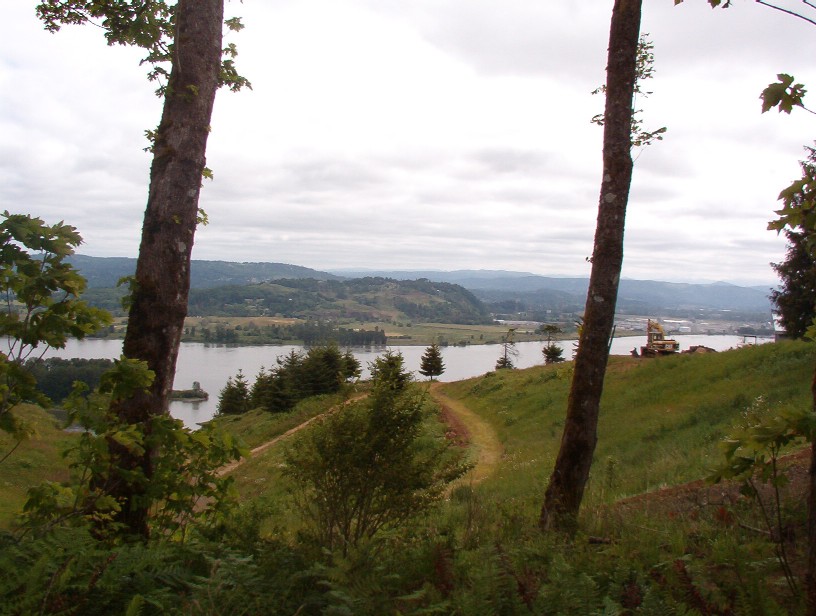 View of the Columbia near Mayger
A few hours further into that day and you probably could've seen Mt. Adams and maybe even Mt. St. Helens.
The roadway itself is a little rough after Quincy, and indeed after the Quincy turnoff I didn't see any more sportbikes. Not a thorough-going V-Strom road, but one that requires a bit of care rather than encouragement of peg-scraping angles.
Friendly folks along the road too. I stopped the take the picture above, and the farmer stopped to make sure I didn't need some assistance.
One really convenient part of that road is that it's just a dozen or so blocks east of where Oregon 47 comes down out the hills. Just enough distance to stop at the handy gas station and fill up before heading across the river and off towards Quincy.
Note: the photo above was taken near the 'B' on the Google Map.
Counties:
Length:
Towns: Quincy, Mayger, Alston
Google Map: