NOTE: Recent ride reports indicate that pavement conditions on FS25 have deteriorated markedly since 2021, and this road is no longer recommended to be ridden above the 35mph speed limit or by vehicles with limited suspension travel. Front Heaves are present in several sections of roadway and several 100 yard long sections of pavement appear to have been intentionally removed at some point.
Back in 2004, I wrote the following about a trip I did in August of that year.
Several weeks prior to the 'Beaver Blast' put together by my cycling club, I mentioned to one of my co-workers that I would be going to Oregon. We'd been talking about doing FR25 <sic>together for about a year, but had never figured out our respective work schedules. So this time, we figured we've got to go do Helens.

As I'd taken a 4-day weekend to do this trip, we were down at Mt. St. Helens on a Friday afternoon. The day was warm and over-dry, but a fair number of bikes could be seen heading up and down our subject road. We gassed up, fed, and re-stocked our liquids at Randle before heading south into the meat of our journey through the National Volcanic Monument.

Many very nice roads are to be found in this area, include WA SR7, FR99, FR90/SR503 to Vancouver, and FR90 leading east and then south down to Carson.
This is still true for the most part. Things have changed a little bit on FS25. FS25 is still a wonderland of twisty bits and wonderful sweepers, but it's also rather dangerous now.
The Washington State Patrol and the Forest Service have started doing high emphasis traffic enforcement patrols on this road and on FS99 due to the number of sportbike riders getting themselves seriously injured here. During 2005 and 2006 it was not a common occurrence for 2-3 riders per weekend to be airlifted out.
FS25 and (especially) FS99 are still fantastic places to get views of Mt. St. Helens, but in the intervening 25+ years since the eruption, the trees have started have started to regrow.
A couple photos taken on FS25 some years ago:
| | |
| --- | --- |
| The north end of FS25 / WA SR 131 | My riding partner doing the sweeper bits along the south end |
FS25 has no services whoatsoever along the length except for at either end. There's some gas stations and convenience stores and a small tavern/restaurant in Randle. There's also a small restaurant and a gas station in Cougar. Last time I rolled through to the east on FS90 I saw a little gas station a few miles east of the FS25 junction, but I haven't been able to find anything online or in my map software to verify it's still there.
If you're looking for much more than this, you'll have to either go into Packwood on the north end or down toward Vancouver on the south leg of SR503.
Towns: Randle, Cougar
Length: 95 miles, including a trip to the overlook on FS99
Counties: Lewis, Skamania
Overview Map for FS25 / SR131:
The black circle that you see below is the location for the SR99 turnoff. That is also reflected in the MS S&T map linked above.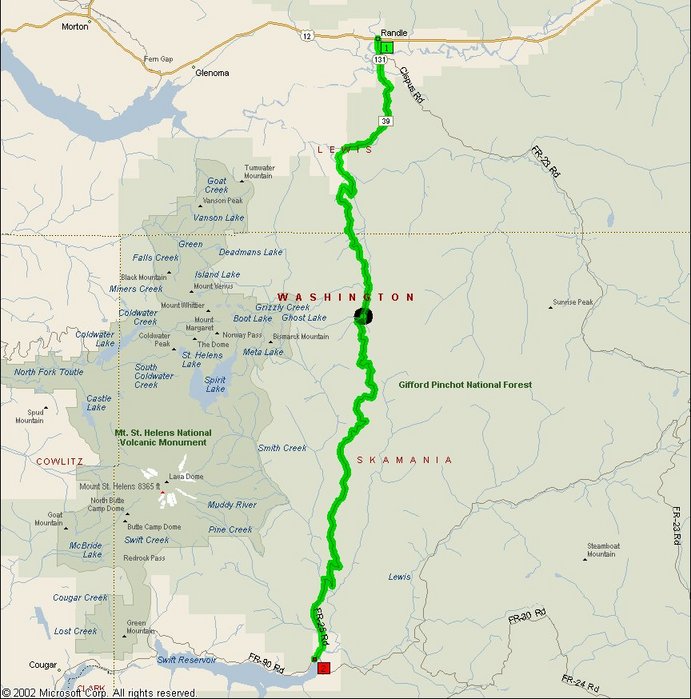 Google Map:

View Larger Map