Green River Road winds from Auburn up to Kent along the Green River. It's one of those road I take when I'm not in a terrible hurry, in that it does get you from A to B, but it also gets you a bit more relaxed.
This sleepy road has more or less been in cold storage since WWII. East Valley Highway bypassed this route many decades ago when the hamlet of Thomas evaporated into the WWII internment camps. There's no shops along this road anymore, and today only a few large produce farms keep the soccer fields and golf course company.
Soccer Fields alongside Green River Road, North of Auburn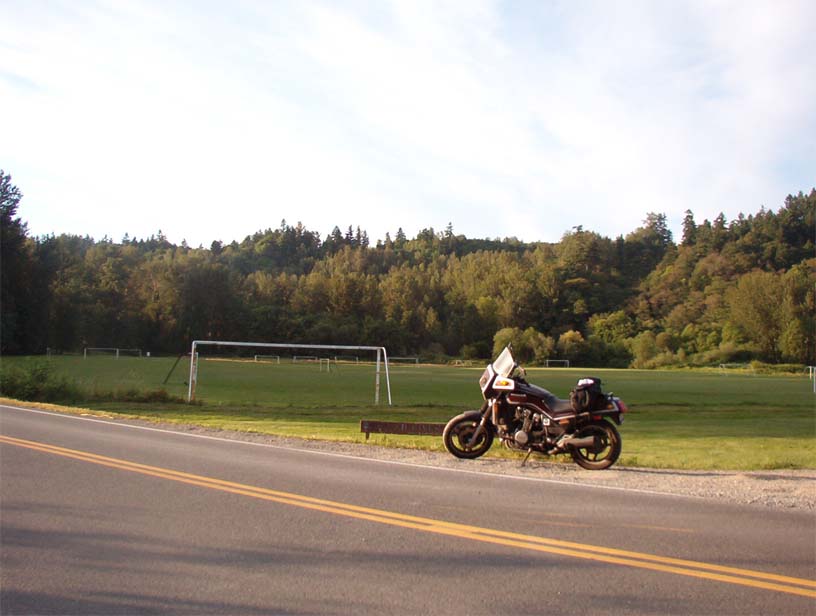 For those of you who are old road buffs, I have reason to believe that Green River Road is a part of the very long windy road that used to go all the way up the banks of Green River to Tukwila, connecting to what used to be Orillia and extending up to what is now Southcenter Parkway.
It's not a terribly busy road. It's certainly not an long road either. If you're looking for a quick spin around the block on a sunny summer evening, this one fits the bill.
View to the South, down Green River Road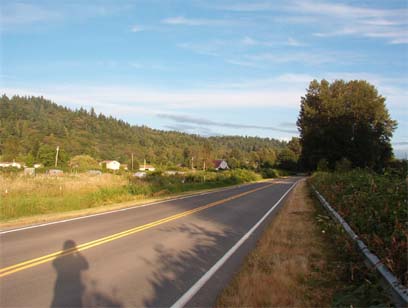 This quintessential river road follows the Green like it was painted on. The entire southern part of the road matches the river sweeper for sweeper. Since it necessarily a twistly little ribbon of ashalt, it's been saved from the helpful auspices of the WSDOT, and since there's a public gold course and soccer fields along the road, it's been allowed to remain open to traffic from both ends, unlike nearby Frager Road.
The north end of GRR turns west and meets up with the modern East Valley where the Kent East Hill takes a jog to the west. The south end starts on the outskirts of Auburn in the northernmost part of town that isn't nearly as heavily-traveled as the western freeway-enabled section of that suburb, and the parks alongside the road provide a good place to sit and enjoy the weather as the exhaust gently ticks beneath you.
Towns: Auburn, Kent
Length: 4
Counties: King
Overview Map of Green River Road (Kent / Auburn, WA):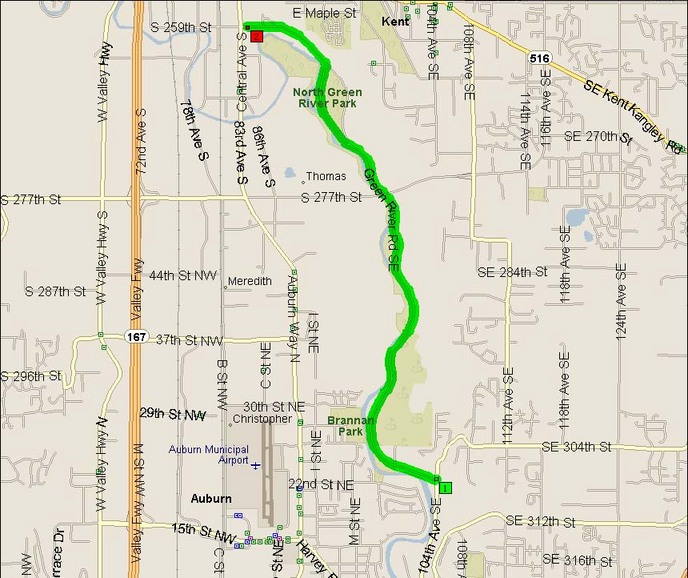 Google Map: