I've traveled Washington Route 508 on many occasions. Sometimes I'm traveling to or from gatherings in Portland, and sometimes simply out enjoying an afternoon away from family and work, and sometimes I'm seeking to avoid the harried, frantic pace set by those on Interstate 5 or US12. This well-paved country highway engenders a different kind of ride, with its wide graceful sweepers it is very much a touring road for those most concerned about time rather than distance.
Most of the sweepers are marked 40-45mph with a formica-smooth road surface that's not brand-new either. They have clear lines of sight, with little drama, usually what I'm in the mood for after a few hours of droning on I-5 with its speed freaks, left-lane hogs, and blind-spot corner-hangers. WA508 also appears to be your getaway from the RVs. I have seen many coming home on SR7 or US12, but rarely ever encounter them on WA508. Another of the benefits of WA508, on those few occasions where you approach slow traffic, the unusually frequent passing zones allow you to make short work of those RVs and sight-seers.
Sample sweeper through Onalaska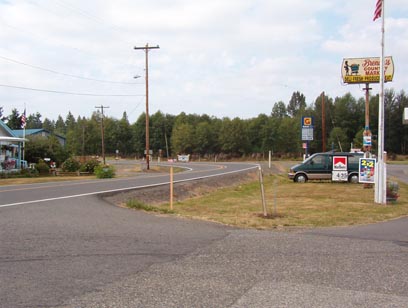 508 has a few attractions of its own for motorcyclists. About 9 miles west of Morton is a luscious group of corners with a 180 hairpin crossing the river bridge as its centerpiece. The corners are marked mostly at 25-35mph, as is the hairpin. The hairpin is a completely different beast from those gentle corners however, as it has a sharp kink on the east side of the bridge which can't be seen until you're on top of it if approaching from the west. A dramatic if you're not really alert or coming into it at peg-skimming lean angles."
Junction of WA508 and Jackson Highway (Old US99)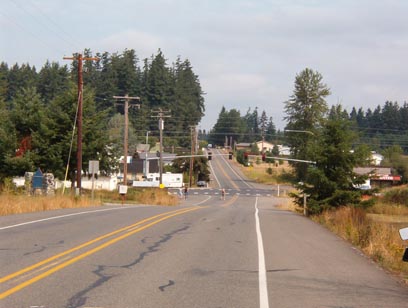 For those motorcyclists who prefer to camp while they tour, Ike Kinswa State Park on Mayfield Lake can be reached from WA 508. While I've never visited this park, I've heard the roads near it are quite nice.
WA 508 is a nice little touring road, rolling through small villages with friendly people. If you are ever heading east on US 12 and not in a terrible hurry, peel off at Morton and give 508 a try.
Towns: Napavine, Onalaska, Cinebar, Morton
Length: 32
Counties: Lewis

Overview Map of Washington State Route 508:


Google Map: