Are you looking for twisty? Yes? Well, we have that.
Are you looking for a spot to camp alongside the road next to an alpine stream? Yes, we have that too.
Are you looking for a tight, technical road with 25-30mph corners and little in the way of traffic and enforcement? Yes, we even have that too.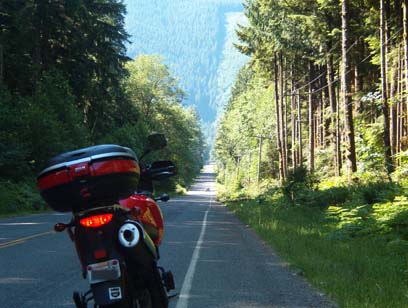 Alongside the road, on the way to FR52 proper
This fine little road operates under several different names throughout its route, depending on what county you are in. At the north end up in Pierce County it's called Osborn Road. On the east end in Lewis County, it's called Skate Creek Road for the lovely alpine stream that it follows down into Packwood. In the middle inside the National Forest, it's what everyone else calls it, Forest Service Road 52.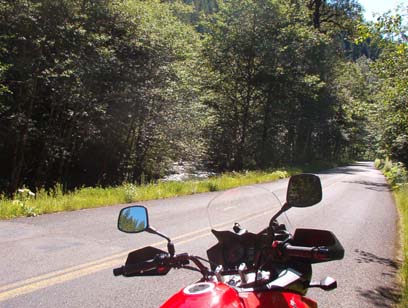 Sunny Creekside. All sorts of backwoods camping going on through here. Major fly-fishing country.
And a Forest Service Road it is. It's not terribly well-maintained but it is paved clear through from end to end and not a lot of kibble in the corners. The centerlines on that road are rather confusing, as the road is painted with both double-yellow and a dotted yellow going down the middle, both clearly visible yet equally faded.
The curves are definitely not rythmic either, they bounce around in various speeds and radii cutting between the forested hillsides and the rapids-filled mountain creek."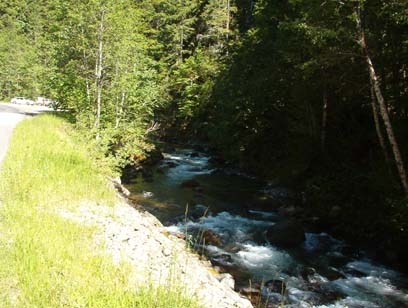 Rapids-Filled Skate Creek
If you're looking for camping, it's very popular for that as well. While I was riding this road in mid-June, I saw about 20 creek-side campsites over the course of 23 miles. Pretty easy to spot in the morning, as most of them had a small cloud of woodsmoke hanging across the road.
Alas, every road has its problems. If you're a rider of serious track-tuned motorcycles, you will not enjoy this road. I've heard complaints of bumpy road surface from owners of serious sport machines, such that they claim they can barely stay in the saddle. Being a rider with a marked preference towards sport-touring and adventure-touring motorcycles, I have had no such problems.
Towns: National, Ashford, Packwood
Length: 25
Counties: Lewis, and a small bit of Pierce
Overview Map of Forest Service Road 52: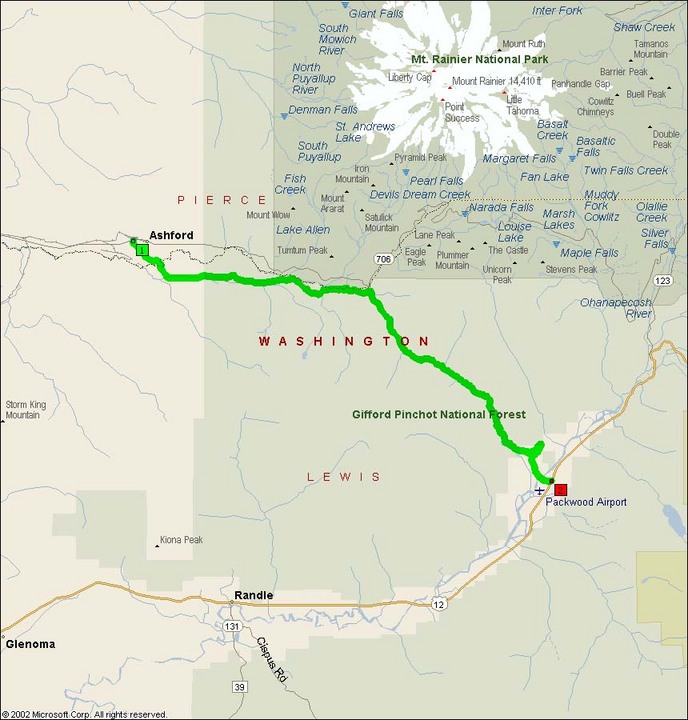 Google Map: