State Route 9 is one of Washington State's finer examples of a rural highway. The curves are well-engineered and most of the curves have very good visibility. The pavement is very high-quality, to the point of being in a shockingly well-maintained state from the viewpoint of this jaded Seattle moto-commuter.
There's also no lack of scenery along SR9. All along this route you can simply turn your head to the east and take in the farmlands and ridges with the Cascade Range peaks as their backdrop.
Mt. Baker in the distance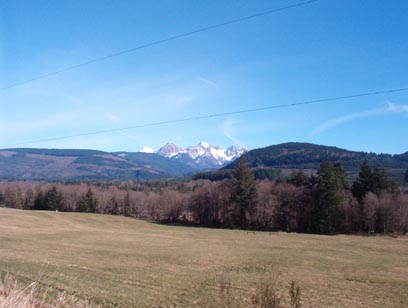 North of Sedro Wooley, SR9 is a very fine road tailor-made for tearing up curves and covering ground. The curves are often linked 3-4 deep with gentle banking and neutral radius. Even more delightful is the 50mph speed limit outside the villages. The State Patrol often seems to place all of their emphasis on the parallel Interstate 5 freeway 15 miles away.
Speaking of high-quality road surface, the pavement is not only very smooth but also very grippy. It's quite obviously been re-paved in the past year or two, as the road hasn't been covered up with any tar snakes or become polished by traffic or numerous hot/cold cycles.
A brief straightaway south of Acme.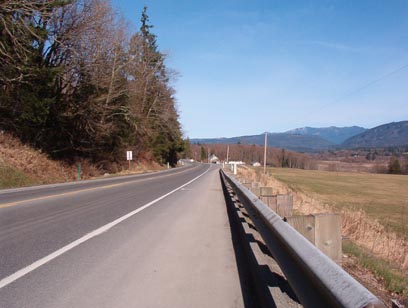 I've ridden this road on a couple different bikes now as well. This road is quite well-suited to sporting standards such as the FZ6 and the DL650 V-strom. While still quite enjoyable on larger/heavier bikes such as my old v4 Sabre 1100, the abrupt nature of some of the corner entries require a slightly more relaxed pace from less sporting machine.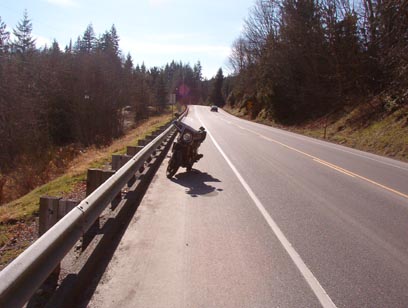 One thing to keep in mind is that section south of Sedro-Wooley down toward Arlington is much more agricultural in nature than the north end. The curves are less-frequently wide sweepers or even twisties, but more in the vein of alternating 90-degree turns from the old farm to markey road that they must have preceded the current roadway. The corners have been smoothed out slightly, but are still 20-25mph 2nd gear turns compared to the 35-45mph twisties and speed-limit restricted 50-ish mph sweepers north of Sedro Wooley.
Overview Map for Washington State Route 9: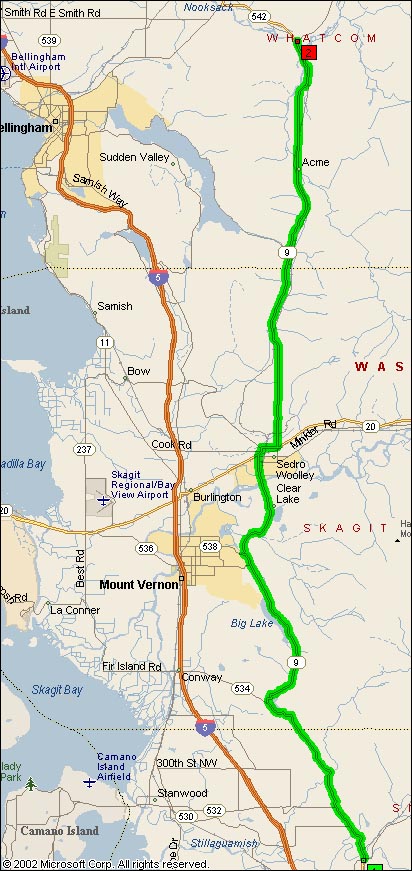 Google Map: