The Blewett Pass Highway was once one of the most heavily-traveled passes in Washington. Although US Route 97 is now the only route to traverse this roadway, US 10 was once routed over Blewett to Wenatchee for the Columbia River crossing. Nowadays, US 10 no longer exists in the West and I-90 is routed southeast, leaving a sleepy route mostly frequented by RVs and outdoor enthusiasts.The landscape on the north side of the pass is quite alpine and very green with thick evergreen forests. The trees come up within a few feet of the roadway, creating a serious 'hoofed rodent' problem at twilight. These trees go right up to the top of the pass, before changing drastically as you come down the south side.
View to the SW from the north end of BPH.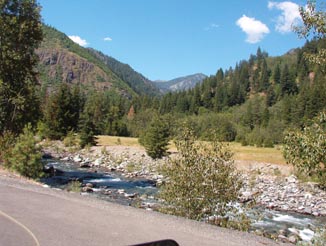 The south end of the Blewett Pass Highway is dry, stark, and arid. What few trees are to be seen are stunted and vastly outnumbered by low shrubs and sagebrush. The desertscape in the Cle Elum area is most plainly prone to grassfires as I drove through several fresh burn zones right up along the highway. US 97 along the Blewett Pass Highway is comprised mostly of moderate to high-speed sweepers.
Many of the steeper uphill sections have a 2-lane passing zone, with the uphill pair separated by a dotted or solid double yellow line (as appropriate for visibility). BPH is also refreshingly free from overuse of said double-yellow lines. Passing on a double-yellow simply isn't necessary on weekdays, as the passing zones are very straight, long, and well thought out. The same cannot be said for the road surface itself unfortunately, as many parts of the highway were patchy (but not too choppy) in both straights and corners.
All in all, US97 is a nice piece of country roadway. Another very good reason to avoid the mad rush of the I-5 and I-90 corridors, BPH provides the touring motorcyclist with more fun and a more relaxed pace.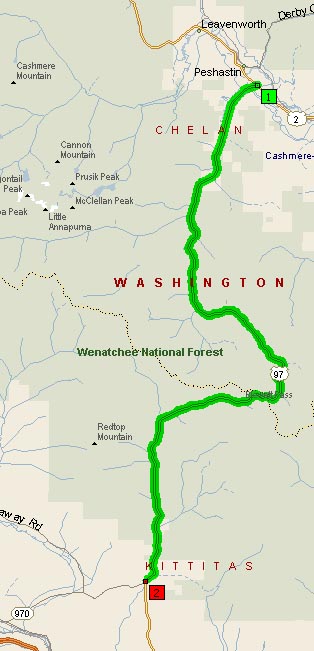 Map of the US97 section traversing Blewett Pass
Road Name: US Route 97 via Blewett(Swauk) Pass
Counties: Chelan, Kittitas
Length: 35
Towns: Blewett, Dryden, Peshastin, Virden
Google Map: