Another rural highway, this one runs along the Siletz River in the Central Oregon Coast.
As you can see from the map below, this road doesn't lack for curves. There's many lovely corners on this roadway, and I very much enjoyed following a souped-up Ford Mustang piloted by a local chap who really knew the road's corners.
Three things that my ride log for Route 229 makes note of are the sunken grades, abundance of 50-80 degree curves and pavement quality.
This is another one of those roads where there is an overhanging tree canopy that can make visibility of the local fauna challenging. Whenever the sun is out, there's numerous sections anywhere from 20-100′ long where the sun is completely obscured by the tree canopy. Obviously, this can be highly hazardous when moving through these curves with gusto and you can't see what's in the middle of the next curve.
Second, these are really awesome curves. Unlike Washington roads, the roads in Oregon always seem to have a rhythm. Engineers in Washington seem to just drop the road wherever they can manage to, but even though Coastal Oregon might have far worse pavement (not this particular road though), the ride is almost always far more relaxing and useful in honing one's skills.
Third, this road has very good pavement quality. Perhaps it's just relative to the truly horrendous roads such as 202 in Clatsop and Tillamook Counties, but this road is very nice. Unlike 202 and 180 (Eddyville-Blodgett), I had absolutely no problems maintaining a good cornering line on this road even while following that well-piloted green Mustang.
Last, and certainly not least, it has some neat old bridges too.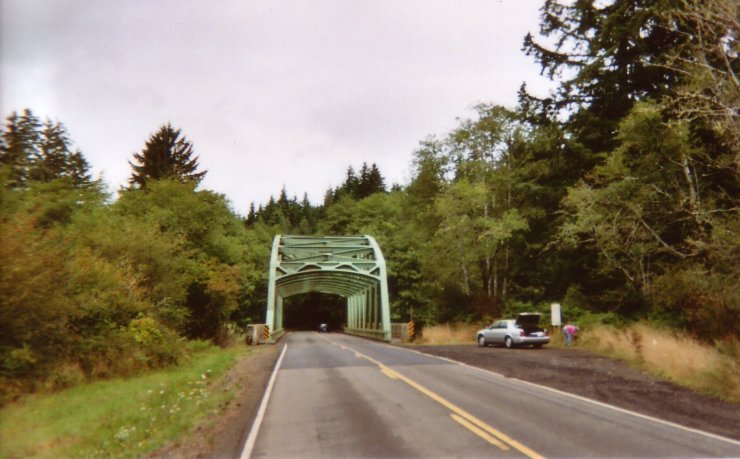 Road Name: Oregon Route 229 (Toledo-Kernville)
Counties: Lincoln(OR)
Length: 32 miles
Towns: Bellamy, Kernville, Mack Landing, Martin Eddy, Melco Landing, Morgan Landing, Roots, Siletz, Toledo
---
Overview Map: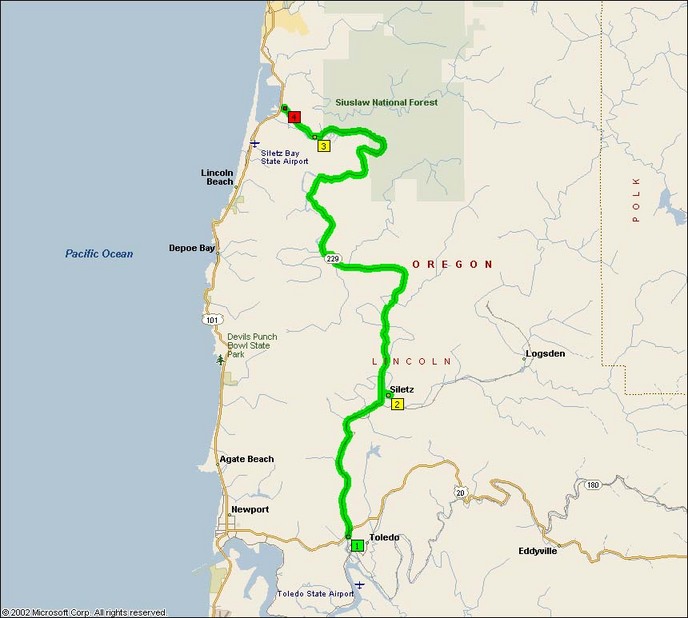 Google Map: