Way over in the eastern end of Oregon, is one of the most challenging sections of rural highway Oregon has to offer. Called Dooley Mountain Highway, it's an amazing piece of road that leaves almost no time at all to enjoy, let alone ponder, the fantastic scenery from 4000′ or so feet up.
Abandoned Barn along Route 245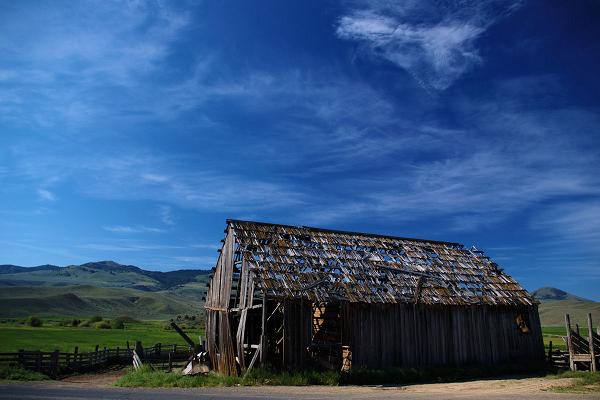 It's a very technical bit of twisties going up the west flank of Dooley Mountain, and there's not much in the way of straights between those curves either. And you can't really call them linked in the sense that you might expect from California's most excellently engineered roads. It's just that there no room to put straight stretches in without running right off the edge of the mountain.
It's really hard to emphasize how good this road is. But like everything else, there's a few warts on a road that's otherwise all "cake and win". Just about every single curve on this road had gravel somewhere in the corner. Sometimes they were in the entrance and others in the exit. And not a few of them had gravel not just outside the tire lines but all the way across.
And as is typical of Oregon, the locals know these roads extremely well and generally assume that there's not going to be anyone in the opposing lane when they come around the corner. It certainly behooves us to maintain a reasonable cornering speed and conservative line, keeping one's vehicle and body parts well away from the center line in blind corners.
In the same vein, don't take the speed recommendations lightly. While the signs are definitely "Oregon Corner Signs" with the speed posted as the lowest for the next half-dozen curves. If you get over-confident about those cornering speeds, that one corner out of the dozen or so will bite you hard.
Just east of Unity Reservoir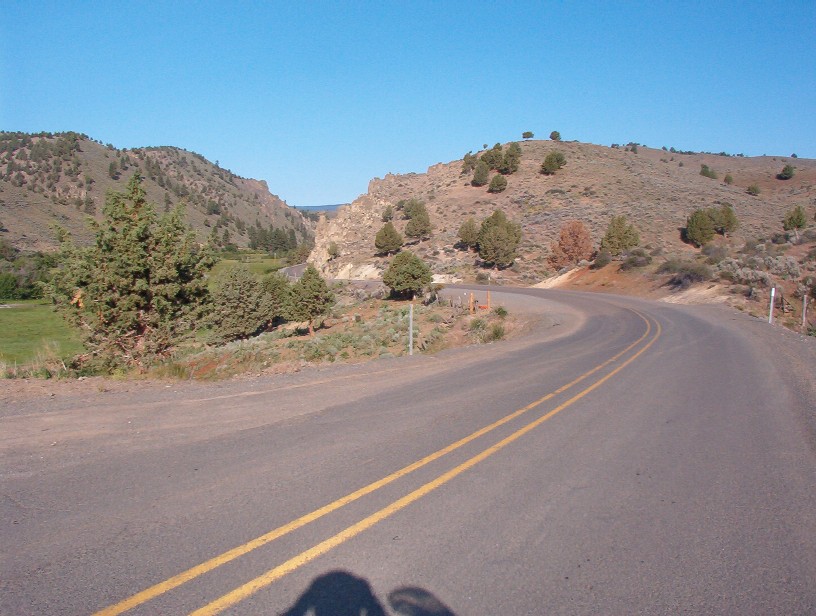 But when you get to the south end of Dooley Mountain, you need to be prepared for a little letdown. The road suddenly drops out only a flat plain that's about as interesting as droning across Nebraska compared to what you spent the last half-hour carving. The sweepers are a little tighter around the Unity Reservoir and a welcome respite, but their not mountain curves for sure. Even US26 from Unity to "Austin Junction" is more interesting than the west leg of Route 245.
And like every other part of Eastern Oregon when I visited in June 2009, please keep an eye out for deer and elk. Everybody in the area was talking about the rider the week before that hit an elk and shattered his hip. I saw well over 20 deer "up close and personal" in just 7 days. Yeah, well and truly infested.
But if you're looking for a rest, that little reservoir has a nice parking lot right by the lake with a driveway paved all the way in.
There's also reportedly gas at the Unity Country Store. Verify their hours (and days) of operation first though.
Please Note: Page 55 of the Benchmark Map incorrectly reads as 204, which is the Oregon "Highway number" and note the appropriate Oregon Route number. Maybe somebody can post an explanation of why Oregon uses such a strange mix of designation systems.
County: Baker
Length: 38 miles
Town: Unity
Google Maps for Oregon State Route 245: